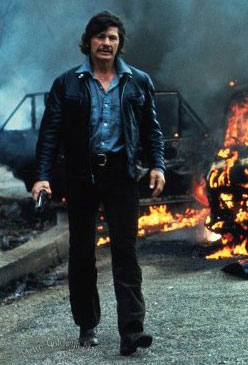 For actors of his generation, I always think of Chuck Bronson as second only to Eastwood. When he was at his best (in the 1970s), Bronson was nearly as good as Clint.
Unfortunately though, Bronson's tough guy career got off to late start. He didn't really hit the big time until The Mechanic, at age 52. He followed this film with five more excellent tough guy movies, which firmly established his status as a great macho star.
His later career produced a number of commercially successful B-grade films, in which his tough guy persona was sadly diminished by age.
Bronson's career had a couple notable parallels to Eastwood's. Sergio Leone actually offered Bronson the lead role in A Fistful of Dollars (1964), but Chuck turned down the offer, claiming it was "the worst script he'd ever seen." However, after Leone's three spaghetti Westerns became blockbusters, Bronson accepted a part in Leone's next film, Once Upon a Time in the West (1968). The film was a financial flop in the U.S., although it had some success in Europe.
In the sixties, Bronson also played supporting roles in two well-known war films, The Great Escape in 1963, and The Dirty Dozen in 1967. Neither performance by Bronson was particularly memorable. In comparison, Eastwood's career was soaring when he stared in his WWII pics, Where Eagles Dare (1968), and Kelly's Heroes (1970).
BEST CHARLES BRONSON FILMS
Bronson started hitting on all cylinders in the early seventies, beginning with his lead role in1972's The Mechanic. This is a great film about a professional assassin (Bronson) who takes an insistent apprentice (Jan Michael Vincent) under his wing. The movie benefits from well-done actions scenes, including a motorcycle chase (on a couple of old Husqvarna dirt bikes) and a very cool car chase along the Amalfi coast in Italy. But it's Bronson's personality, coming through in his portrayal of hitman Arthur Bishop, that carries the movie.
Memorable quote (coaching Jan Michael Vincent on the art of killing):
Arthur Bishop: "You always have to be dead sure. Dead sure or dead."
The Mechanic was Bronson's second movie with director Michael Winner (Chato's Land, a Western casting Bronson as a half-breed Apache, was the first). Winner directed Bronson in six more films, including Death Wish, the movie that made Bronson an international star.
The Stone Killer (1973) followed The Mechanic, and was also directed by Michael Winner. The movie casts Bronson as a wise cracking detective, a bit atypical for him, and this brings a lighter tone than many of Bronson's most popular films. But the Stone Killer is violent and gritty, with many shootouts and lots of bad guys getting scrubbed off the planet. Interestingly, Norman Fell and John Ritter play cops in this movie, and both later went on to star in the popular sitcom, Three's Company (1977-1984). Neither are great in The Stone Killer (actually, Ritter's acting is appallingly bad), but they became hugely popular in Three's Company. If you've not seen Norman Fell as Mr. Roper, you're missing one of the greatest comic performances in television history. Fell may not play a great cop, but he is one of the funniest actors ever.
Memorable quote:
Cab driver: "What's a nice guy like you want with the 4th Precinct House?"
Det. Lou Torrey (Bronson): "They give a good massage and a quick piece of ass."
After The Stone Killer, Bronson stared in one of my all-time favorite flicks, Mr. Majestyk. Playing Vincent Majestyk, a Vietnam vet trying to make a living as a watermelon farmer, Bronson runs afoul of Frank Renda, a brutal mobster played by Al Lettieri. The conflict escalates and is finally resolved after Renda and his crew machinegun Majestyk's watermelon crop. Bronson is at his hard-fisted best in this kickass film.
Memorable quote (Vincent Majestyk is sitting in a diner, when Frank Renda walks in with his henchmen):
Renda (takes a seat across from Majestyk): "Hey, how ya doin there, buddy? You okay? I just came by to tell you something. Maybe you know it already. But I wanna make sure. I'm gonna kill ya."
Majestyk (pointing across the diner): "Hey, a couple cops over there."
Renda: "Yeah, otherwise you might be dead already."
Majestyk: "When is this big event gonna take place?"
Renda: "What's the difference? Tomorrow, next week. You can hide in that basement in the police station. But I'm gonna get you, my baby."
Majestyk: "Seems like there's no use trying to get on your good side." (stands and punches Renda in the face with a vicious right cross).
Majestyk: "Hey, why don't you call the cops?"
Death Wish followed Mr. Majestyk, and was a box office hit. It was among the top 20 highest grossing movies of 1974 (it was beat by notables such as The Godfather part II, Chinatown staring Jack Nicholson, Eastwood's Thunderbolt and Lightfoot, The Longest Yard with Burt Reynolds, and the top earning film of the year, the Mel Brooks comedy, Blazing Saddles).
In Death Wish, Bronson plays Paul Kersey, a man whose wife and daughter are attacked by New York City thugs. Kersey, his torment unrelieved, takes to the streets with a revolver and goes hunting for muggers.
Memorable quote:
Paul Kersey: "Any chance of catching these men (those who raped and killed his wife and daughter)?
Cop: "There's a chance, sure."
Kersey: "Just a chance?"
Cop: "I'd be less than honest if I gave you more hope, Mr. Kersey. In this city, that's the way it is."
Bronson made four sequels to Death Wish. All were average action movies – not great, but watchable. The first two were low budget films, and were quite profitable; Death Wish II and III earned $16 million apiece in domestic box office revenue. The final two were far less popular – Death Wish V only generated $1.7 million in receipts.
In 1975, Bronson teamed with director Walter Hill (notable for 48 Hours with Eddie Murphy, Red Heat with Arnold Schwarzenegger, and Last Man Standing with Bruce Willis) in Hard Times, the story of a depression era street fighter in New Orleans. Bronson, as bareknuckle brawler Chaney, joins slippery promoter Speed (James Coburn), and they climb the ranks and go after the big money. Bronson, at his taciturn best, is superb, as is the fast talking Coburn.
Memorable quote:
Lucy Simpson: "What does it feel like to knock somebody down?"
Chaney (Bronson): It makes me feel a hell of a lot better than it does him."
Lucy: "That's not a reason."
Chaney: "Hey, there's no reason about it. Just money."
The next Charles Bronson movie that must be included among his best was filmed in 1981, when Bronson was sixty. This movie is Death Hunt, the story of a reclusive trapper in the Yukon who is wrongfully accused of murder by a pack of fellow trappers. Lee Marvin plays a lead role as Mountie Edgar Millen, and is tasked to bring Albert Johnson (Bronson) in for questioning. But the trappers try to kill Johnson, who flees across the frozen wasteland and avoids and kills many of his pursuers. Bronson's portrayal of a solitary mountain man is perfect; this underrated adventure movie is a must see for tough guy fans.
Speaking of tough guys and gritty tales set in harsh winter environments, if you like this kind of stuff, you might check out STATELINE, or my other novels featuring Dan Reno.